So You Want to Be a Professor
How to Land Your Dream Job in Academia
Professors change the world. Are you motivated to teach? Do you have the commitment and courage to do what it takes to trade your job for the classroom?
9 out of 10 people fantasize about being a college professor; it's among the most admired and trusted professions in the world. In the US alone, colleges employee over 1.5 million of them.
But competition for these positions is fierce. Few spots open up for even the most experienced practitioners. When they do, there is a long line of working professionals waiting at the dean's doorstep, people with extensive experience and abilities.
If you want to become a professor, you have to prepare no matter when you want to start: now, mid-career, or post retirement. You can get there, too, but you need to find non-traditional paths if you want to be ready and jump to the head of the line.
This book will help you prepare. It will challenge you to begin thinking of your current workplace career as preparation for your next career as a professor. What are the things you can do now to prepare you to land — and succeed in — an academic role?
Be a catalyst for change. Be a professor.
Read this book if you want to join the world of academia.
eBook and Paperback Available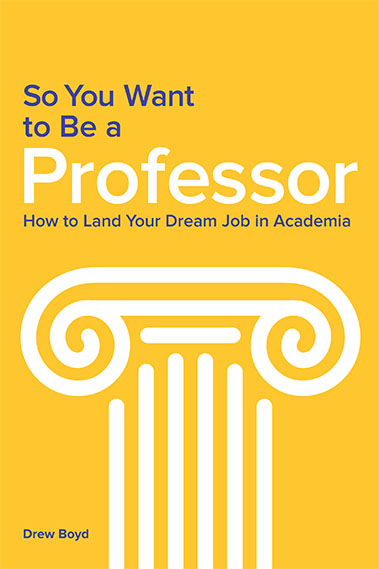 Testimonials
"Teaching in academia is wonderfully rewarding, but different from any other sector or industry. It's so worth doing, if you know what to do. Finally, here's a book that explains! Professor Boyd shows how people from all walks of life can do it. If you've ever thought about teaching in academia, here's how to make it a reality."
– John Ullmen, PhD, Lecturer, UCLA Anderson School of Management and MotivationRules.com
---
"I followed a path similar to Drew Boyd's story. And even now, eight years into teaching, I found Drew's book to be insightful, personal, poignant, and enormously helpful."
– Jim Stengel, former Global Marketing Officer, Procter & Gamble; former Adjunct Professor, UCLA Anderson School of Management; Senior Fellow, Northwestern Kellogg; and author of Unleashing the Innovators: How Mature Companies Find New Life with Startups
---
"So You Want to Be a Professor? Sounds easy, doesn't it? Well, it isn't. The transition from professional to professor is filled with challenges. This book is filled with tips and tools on how to get in the door. Buy the book and learn from the best."
– Jeff DeGraff, Professor, University of Michigan and Co-author of The Innovation Code
---
"For anyone having second thoughts about their career direction, read this book to give you a fresh idea."
– Dr. Patrick Donahue, Vice President, Leadership Development, Danaher Corporation
---
"Professor Boyd has delivered a unique and highly valuable resource for professionals to plan effectively for a 2nd (or 3rd) career in the university setting. This innovative resource provides REAL tools and methods to prepare properly to enter the academic field. I wish I had this book five years ago!"
– Chris Littel, Instructor, Institute for Entrepreneurship, Florida Gulf Coast University
---
"An absolute gem! For anyone who's ever thought about college teaching, So You Want to be a Professor offers a detailed roadmap on how to get there. An indispensable resource to land your dream job in academia!"
– Jane Horan, author of Now It's Clear: The Career You Own
---
"Drew Boyd's So You Want to be a Professor codifies his experience mastering the art of career transformation. Drew's writing is crisp, clear and full of practical advice that will surely help you catapult yourself into the world of university teaching."
– Marta Dapena-Baron, PhD, The Big Picture Partners