I am excited to announce a new book that was just released by my friend and colleague, Dawn Graham. Switchers is the first book written specifically for the career changer, to help them to realize their dream of landing in a new industry or function.The first step is recognizing that the usual rules and job search tools won't work for a switcher. Resumes and job boards were designed with traditional applicants in mind. Career switchers have to go beyond the basics, using tactics tailor-made to ensure their candidacy stands out. Switchers provides a step-by-step guide, chock-full of actionable tips and useful tools, that empower readers to figure out their next move and draw a roadmap for how to get there. What's more, it peers into the mind of the job seeker and hirer, revealing what fears may be holding them back from going for a job or choosing a candidate. Switchers reveals how to:
Understand the concerns of hiring managers—and think like they do
Craft a resume that catches hiring managers' attention within six seconds
Spotlight transferable skills that companies covet
Rebrand yourself—aligning your professional identity with your new aspirations
Reach decision-makers by recruiting "ambassadors" from within your network
Nail interviews by turning tough questions to your advantage
Convince skeptical employers to take a chance on you as a switcher
Negotiate a competitive compensation package—even as a "newbie" to the field
Career changers face unique challenges that demand fresh approaches. Packed with psychological insights, practical exercises, and inspiring success stories, Switchers helps you leap over obstacles and into a whole new field. Want to pull off the most daring—and fulfilling—career move of your life? Read Switchers.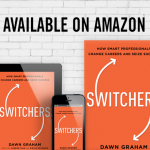 Dawn Graham, PhD
is the Career Director for The MBA Program for Executives at The Wharton School at The University of Pennsylvania, where she partners in setting strategy and supporting the EMBA students in achieving their career objectives through extensive programming and individual coaching. She also hosts a national call-in radio show on Sirius XM (Channel 132) "Career Talk," writes regularly for Forbes.com under their leadership channel, and teaches

Persuasive Communication

to Wharton undergrads under the Management Department. Dawn's new book "Switchers: How Smart Professionals Change Careers and Seize Success" (HarperCollins Leadership/AMACOM 2018) engages her background as a career expert, licensed psychologist and former corporate recruiter to provide a roadmap for career switchers to get beyond the hiring bias and land the job they want.